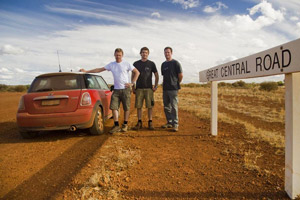 In 1965 Evan Green decided it would be a smart idea to drive a Mini across the centre of Australia. Twice. A rally driver, novelist and motoring journalist, he was given the suggestion to embark on this hazardous adventure by vehicle lubricants manufacturer Castrol to form part of their marketing campaign for their new product, Castrol GTX.
The ensuing journey totalled 12,000 miles in a figure of eight across some of Australia's most challenging terrain. As a result Evan Green became the first man in history to drive across Australia from east to west through its centre. He recounted his travels in the 1966 book "Journeys with Gelignite Jack".
Flash forward 43 years to 2009 and another Mr Green, Evan's Son Gavin, came to the conclusion that he too would cross Australia in a MINI, this time a new MINI Cooper.
In April 2009 Gavin covered 4,130 miles across Australia. His east-west route from Sydney to Perth took him and his MINI Cooper through Bourke, Barcaldine, Boulia, Alice Springs and Laverton, before arriving at their destination 10 days later. Incredibly the path chosen followed 80 percent of the roads and tracks his father had used almost half a century ago.
Despite initial concerns about the suitability of the standard suspension and tyres, this toughest of road-going challenges was undertaken in a MINI Cooper modified only by way of a bespoke sump guard. Gavin and his two man team, consisting of Darryl Cook (BMW Group Australia Senior Technician) and photographer Mark Bramley, faced an unsurprising level of cynicism and incredulity at the hands of locals who believed the route ahead would be impassable in the MINI. It wasn't and the MINI never once let them down on their "journey of a lifetime".
Recalling his MINI adventure, following in his father's footsteps, Gavin enthused:

I wanted to give a different perspective on MINI in its 50th anniversary year and my father's journey in 1966 has long been something I've wanted to pay homage to. It was an emotional experience because crossing Australia in this way meant we had the opportunity to witness some awe-inspiring locations and people, all of which is captured in the stunning collection of images we now have from the journey.

I cannot fault the MINI Cooper in any way. It continually impressed me and that is testament to its build quality. The MINI was running on standard 16-inch run-flat tyres and we didn't once have to change them, despite it often having to cover a mix of rock, mud, sand and asphalt at high speed.
The trip was commissioned by British Airways inflight magazine "High LIfe" to celebrate the MINI's 50th anniversary. You can now read the full story and witness more stunning imagery online at bahighlife.com.
Source: http://theswitchback.com/news/its-an-australian-mini-adventure#