Mini Mania
I just wanted to speak of my experiences while trying to find out information and buy parts for my newly acquired mini. I bought a 1973 Austin Mini Leyland, yellow in color ( think Mr Bean ) and literally had no experience with cars or knew anything about mini's. I knew that I wanted a project car and something to get me started on my mechanical knowledge quest, and the mini fit the bill. When I started looking at companies on the internet, MiniMania was the first company and web site that came up. I was amazed at the amount of parts that was offered on your web site.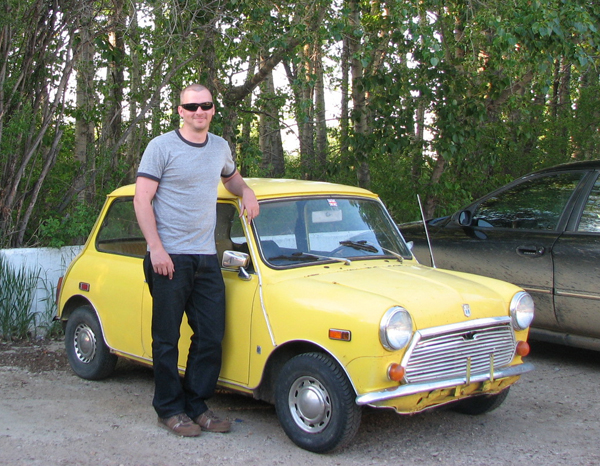 When I took my car in for an inspection, I was told I needed new rims and tires, tie rod ends, and a host of other little things to make it road worthy. I made up a list of things I needed and wanted. Soon after I sent a email to Mini Mania that was, in my opinion, cluttered with questions. I expected to receive a response based on a few of my questions or a response basically stating to call once I had the money. Soon after I got a response from Chuck that covered every question I had asked, literally. Chuck had taken the time to read my whole email and respond to each and every little thing I had asked, ridiculous or not. At that point I knew I would be buying my parts from Mini Mania. I sent Chuck about 3 or 4 more emails. Chuck was patient with my lack of knowledge and when asked about buying disc brakes for all 4 corners on my mini, Chuck told me that buying for all 4 corners would be wasting my money unless I was racing my car. A honest salesman.
When I finally got my money together to buy parts, I ended up speaking with Don who also was extremely helpful in helping me get my order together. My order consisted of 10" wheels and tires, S Disc brake conversion, Seat belts, and a host of other things. I was concerned that I might get screwed once my parts got to the border so I spoke with the post office who stated that they would take anything under 300cm's long/wide and under 55lbs. Don made sure that my order would be packaged so that it fit those specifications. When it came time to send out the money so the order could be sent, I found my visa only had a maximum of $500, so I needed to start up a paypal account to send it, but had to wait over a week for it to be accepted. I spoke to Don about this who put me on the phone with Jonathan. Jonathan tried to come up with some options with me and in the end sent out my order before I had even paid. To me, that kind of trust is absolutely non existent these days and it made me even more of a fan, because it also meant my parts would arrive sooner than later. That still blows me away.
When my order arrived I found that for a $3000 + final bill with shipping and handling, I paid about $160 in taxes at the post office. I found this very reasonable. All my parts were there and in great shape. I had my mechanic get started on my car as soon as possible and was excited to see the final product ( at least for the time being ) come together. When the car was done, I was able to take it out to the lake for a weekend, the brakes were amazing as opposed to what I had before and the tires and rims looked and felt great. Talk about shit eating grin, im sure you know what im talking about. Needless to say I am a huge fan of the mini now and cant wait till its properly done. Plans for the future include a new engine ( 1275 s ) and all the little bits to make it a rust free cool car.
I want to thank all these people and your business in general for making my foray into this awesome hobby/lifestyle hassle free and extremely fun. Its people like you that bring more people into this hobby. Once again, thank you so much for making this a effortless transition for me.
Rob Crawley
High Prairie, Alberta, Canada
Sheriffs Dept