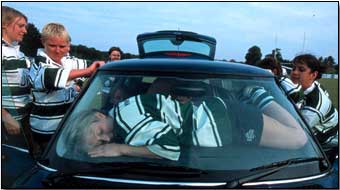 A squad of women rugby players have smashed their own record for the number of people that can fit in a mini.
Eighteen of the players squeezed into a New MINI, which was produced in Oxford.
Colin Goodwin, of Autocar who set up the record attempt, said: "We have tested every other aspect of the new MINI, but not the one thing that the old Mini was most famous for."
The Reading team crammed seven people into the front of the car, another seven in the back, two in the boot, one on parcel shelf, and one across the dashboard.
Last year, 17 of the squad fitted into an old-style Mini, which is slightly smaller than the new car.
This article is copyrighted and courtesy of BBC Online.