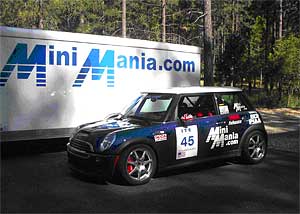 The Mini Mania team is always striving for excellence in everything we do, and our development efforts are on the top of the list. While not many MINI Coopers are currently being used as dedicated race cars, we understand that 'racing improves the mark'; as a result, Mini Mania has now started to do some hard testing by running one of our various test MINI Coopers in local SCCA events.
The SCCA "ITE" class is ideally suited for our purposes as it allows us to make almost any modifications we like – and after all, testing is what it is all about. The 'ITE' class consists of cars that don't fit into other classes, and therefore our competition consists of many Corvettes, Mustangs, etc., that have also been modified beyond normal class limits. The competition in the class makes the outing great fun for us, but the test time under hard racing conditions is priceless.
IMPROVED TOURING
While maintaining the stock look and much of the stock interior as well as running on street/DOT tires, the Improved Touring (IT) category is broken down into four seperate classes based on performance. Improved Touring S (ITS) cars are the fastest, followed by ITA, ITB, ITC and ITE.
From www.scca.org
Our first objective was to test the ULTRIK Water-to-Air intercooler. We already knew the system works great on the street, but needed to see how it would hold up under racing conditions.
Air temperature sensors were installed in the intercooler inlet and outlet and yet more gauges were added for the driver to watch. We first tested some of the various oversized 'air to air' intercooler to get a baseline for comparison; the results quickly showed that while these units are slightly better than stock, they still failed to cool the air for more than a lap or two.
In went the ULTRIK Water-to-Air system, which delivered a tremendous reduction in the temperature of the air going into the chamber, resulting in a reduction in our lap times. However, the effectiveness began to fall off after about 10 laps or so. This was not unexpected as radiator surface area is a critical factor in the lasting effectiveness of the system. The answer was simple: installing a second small radiator in front of the stock radiator provided the additional cooling capacity needed for these extreme conditions. Problem solved!
Thankfully, harsh testing does provide results. You can look forward a new product to be offered in the coming weeks that will provide for an optional additional radiator for ULTRIK Intercoolers which are to be used in severe applications.
At our next SCCA event we will be testing various spring and shock combinations to determine optimum handling. Check back in a few weeks to hear our results!