Search Tips
Doing a Mini Mania search is easy. Type in your search terms (keywords that describe what you want) into the search box and hit the 'Search Mini Mania' button.
Here are some tips on searching to help you refine your results.


Avoid using common words like "and", "if", "or", and "the"

Examples:
Don't Search: Oil Filters and Air Filters
Do Search: Oil Filter
Do Search: Air Filter


Avoid using plurals

Examples:
Don't Search: Pistons
Do Search: Piston


Keep it short for a broad range of results, or make it long and specific if you know what you are looking for

Examples:
Short: Chrome (returns 84 results)
Long: Chrome Mirror Cover (returns 1 result)


Don't use the search term "MINI Cooper". (If you want to narrow your results to a certain year and model, use the "My Car" feature.)

Examples:
Don't Search: MINI Cooper Cold Air Intake
Do Search: Cold Air Intake


Search by our part number, or by the manufacturers part number.



"My Car" Search Feature Explained.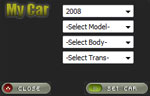 We've launched a new menu system featuring a different way to search Mini Mania called "My Car". (Located in the upper right of the page.)

Select the "year", "model", "body", and "trans" specific to your car and click on the "Set Car" button. Now the searches you perform will be specific to your car!

"My Car" is optional, you do not have to specify a car to search our wide range of parts and accessories for your MINI Cooper!