If this message does not display correctly, view it
here
MINI Mania Newsletter, April 2017






1-800-946-2642


LIVE CHAT


Don't Forget to Use Your April Discount Code
for 10% OFF Your Order:
APRIL10
* May not be applied to sale, specially priced or special order items.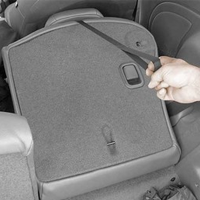 1.
Mini Cooper Easy Pull Seat Straps
Do you hate that long reach into the car to pull the folded down rear seats back upright? These ingenious pulls will give your back some relief. Simply remove headrest, install the pull and no reaching in! The pull straps are much easier to reach than the seats. These pull straps are sold as a pair. For ALL MINI models except Coupe & Roadster.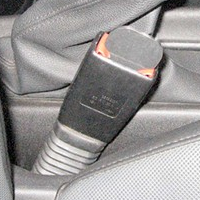 2.
Chimex Seat Belt Adapter For Chime Defeat
Use the Chimex Seat Belt Adapter to prevent your MINI from complaining about having luggage or other heavy items on your passenger seat! Your MINI has a weight sensor on the passenger seat that allows the computer to decide if there is a passenger sitting there. This will stop the chime reaction. Fits ALL MINI models.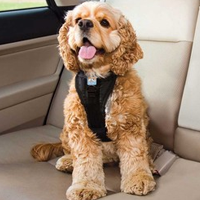 3. Pet Harness With Quick Release Buckles
The harness is quick and easy to put on; simply slip it over your dog's head and then clip the Quick Release Buckles around the midsection. The five different adjustments provide nearly a custom fit, and the chest pad makes sure that even if Fido misbehaves on the walk or in the car he can be controlled. Great style, functional and safe.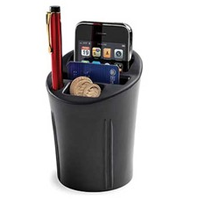 4. Commutemate Cell-cup®
A must for commuters with cell phones. The CellCup® easily fits into your cup holder providing a secure and handy location for your cell phone, change & pens or pencils. The patented design features molded, tapered compartments that grab & hold phones, music players and other loose items. An access hole molded into the base makes it easy to charge while you drive.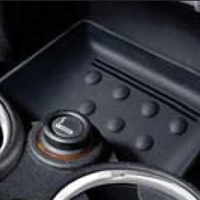 5. Storage Tray Center Console for R55,56 & 57 Minis
Add a usable cubby hole to your MINI's interior. Loose change, lint and other pocket contents finally have a stylish, rubberized home to call their very own. Easy to install & gives your MINI a cleaner look. This is one of our best selling convenience products for Gen1 and Gen2 MINIs!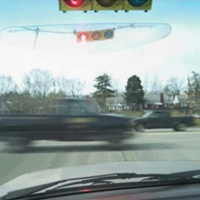 6. Light In Sight Windshield Wide Angle Lens
Do you have trouble seeing traffic lights when stopped at an intersection because the roof-line blocks the view or the rear view mirror is in the way?? Here is your solution! LightInSight is a unique product that solves a problem many drivers have faced, without any costly equipment or installation. It is a clear windshield mounted fresnel lens for assisting drivers in seeing traffic lights that would not be in the driver's normal field of view.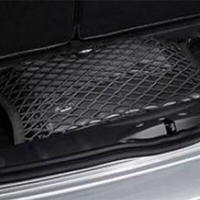 7. Mini Cooper OEM Trunk Cargo Net
From MINI, this net holds all kinds of cargo securely. S-hooks included for installation. The cargo net in the 'relaxed state' is about 17" x 23" from hook to hook. If stretched, the dimension is about 29" x 40" from hook to hook. This trunk cargo net will fit the R50, R52, R53, R56 & R57 MINIs.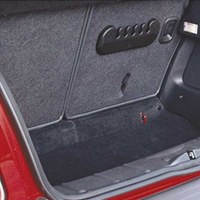 8. Mini Cooper Grocery Bag Holder
A convenience item that will make you wonder how you ever lived without it! Avoid spills and breakage by securing bags with handles to this easy-to-install holder, which can be mounted on the back side of the rear seat. An easy and affordable way to keep your precious MINI clean and organized for years to come.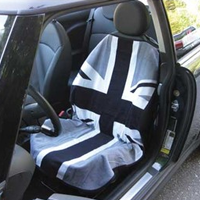 9. Mini Cooper Seat Covers in Various Designs
Seat Armour protects and adds comfort to factory front seats while adding color to the MINI's interior! This is the PERFECT product for Convertibles, Hardtops in hot climate, or any MINIs without seat heaters in cold climates. The Seat Armour provides all-around protection for the front seats and is easy to clean. Available in Union Jack, Black Jack & Checkered. Sold Individually.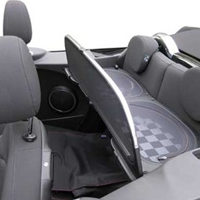 10. Mini Cooper OEM Wind Deflector for Convertibles
If you own the new R57 2009 or newer MINI Convertible - this product is a 'must have'! This MINI wind screen will dramatically reduce wind turbulence in the cockpit when the top is down. Have a conversation without raising your voice and minimize 'wild hair'. Installation takes less than a minute and simply 'snaps' into place. This deflector fits the R57. We also have deflectors available for the R52 & sunroof wind deflectors!

Every MINI Driver Should Have a Sprint Booster

---
Come to Our 17th Annual Nevada City Adventure

---
More than 1000 MINI Parts & Accessories ON SALE

---
Almost 200 MINI Parts & Accessories Priced to Sell